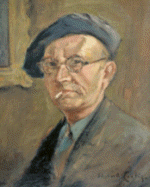 Back to the Edouard Cortes selections
Edouard Cortes
(1882-1969)
Edouard Cortes, of French and Spanish ancestry, was born on August 26, 1882 in
Lagny-sur-Marne, about twenty miles east of Paris. Cortes' father, Antonio Cortes, had been a painter for the Spanish Royal Court. In his youth Cortes learned the basic disciplines of landscape painting from his father and at age 17 entered the Ecole des Beaux-Arts in Paris. There, for the next five years, Cortes studied the various forms of classical and impressionistic painting. The year 1901 marked the artist's first exhibition at the Salon des Artistes Français, Cortes exhibited his early works yearly in Paris at the Society's salon as well as at the Salon des Independants and the Salon de l'Hiver.
Edouard Cortes' paintings express the romance, energy and charm of old Paris through his masterful application of bold brush strokes and intriguing colors. His works display the profound knowledge held of perspective and composition; and, the viewer's eye is most often caught by fascinating details - the play of lights on wet pavement, shadows on streets and glowing windows and street lamps. On any one of Cortes' canvases, one can find an array of tones ranging from soft gray hues and ambers to vivid reds, yellows and oranges. A splash of purple may be a man's tailored dinner jacket or a stroke of blue, a woman's cloak. The viewer cannot help bur marvel at the overall effect of the artist's composition.
Among other places, Cortes lived in Paris and captured many of its famous landmarks. Cortes painted them from different angles, different seasons and different times of day giving each of them various points of view. Cortes also painted landscapes and interiors.
After a life-long dedication to seizing the magic of Paris during its transition from the romantic belle époque to the modern, twentieth century capital as we know it, Cortes has left the world a legacy of master paintings. Now found in the most prestigious collections throughout Europe, the United States, Canada, Great Britain, Australia, South America and Japan, his work continues to awe the world.
Cortes died on November 26, 1969.
More information regarding Cortes can be found in David Klein's definitive work Edouard Cortes and Dictionnaire des peintres, sculpteurs, dessinateurs et graveurs by E. Benezit.