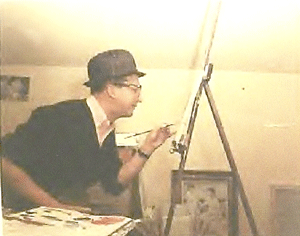 Back to the Andre Gisson selections
Andre Gisson (1928-2003)
Andre Gisson's real name was Anders Gittelson. He was an American born in Brooklyn, New York. As a struggling young Impressionist painter, he decided that by adopting a French name and setting back his birthdate to 1910, he would enhance his chances for success. He graduated from the Pratt Institute and was a Captain in the Army during World War II. His paintings reflect his adopted Francophile persona, backed by travels and studies in Europe and the Far East and his desire to appear cosmopolitan in background. Over four decades, his one-man shows extended from New York, Washington, Texas and California to London, Paris and Tokyo.
Gisson's landscapes, beach scenes, and portraits were intended to create a reflective mood of serenity. The still-lifes show Japanese influence in his work, while the French influence is more pronounced in his landscapes, beach scenes and studies of the human figure. Throughout his career, Gisson developed and refined the style and technique of impressionism, with its small broken brushwork and soft, vibrant colors. A versatile artist, he was equally adept at painting landscapes, coastal scenes, still lifes, and portraits. His landscapes depict the French countryside, where he paints every summer, and the region around Lake Mahopac in upstate New York, where he lived for many years. There is little question that the artist approached his subject matter with a singular gesture, and with the "romantic" history of his persona, Gisson has a strong following among collectors of his works. Paintings by Andre Gisson can be found in the collections of the Smithsonian Institution and the Triton Museum of Art, in North Carolina. Among his private collectors were President Lyndon B. Johnson and W. Somerset Maugham.
Gisson believed that it is the role of the artist to extend or "explain" perception and feeling and in this way enlarge the total human vision ..."Flowers for me are a way of feeling certain effects of light and conversely, light is a means for expressing something very personal about the way I experience flowers."
"When I begin to paint, certain remembered sensations come to me and it is these that I translate into visual form and related subjects. These subjects -- people, the nude, florals, landscapes, beaches, etc., recur constantly like obsessive memories. For the most part they are the common universal experiences of all of us, neither contemporary nor out of an antique past, but with a sentiment which I hope is recognizable to others at any time."
Several of Gisson's paintings have been published and distributed internationally.