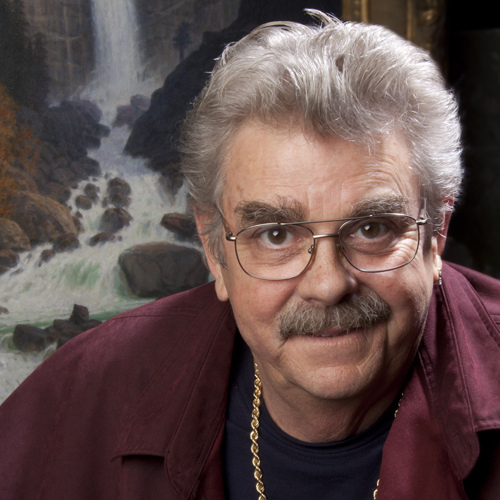 Back to the Patrick Woodman selections
Patrick Woodman
(born 1948)
Born in Pasadena, California in 1948, Patrick Woodman was raised in the San Francisco Bay area. Mr. Woodman began painting at the age of five. "My father and I were on an outing at Lake Merritt when I observed a woman painting the multi-colored hulls of overturned boats at the lake's marina. That afternoon, on our way home, I announced to my father that I had decided to be an artist."

Mr. Woodman began exhibiting his work in galleries when he was twelve. Maintaining paintings in three galleries in San Francisco during the Sixties, his clients were primarily Californians, with his works in collections running the length of the state. In the Seventies, after a trip to Europe where he studied, painted and sold works to collectors in Paris and Athens. Upon his return to the United States he moved his studio to Dallas, Texas. It was while painting in Dallas that Mr. Woodman's work was recognized and hung in such collections as Frito Lay Corporation, Sun Tex Oil Corporation, the H. Bass Collection, Inwood Bank of Dallas, and the B. B. Barnett Collection, to mention but a few. At the time, Mr. Woodman's repertoire consisted of landscapes, still lifes, seascapes and some figure work.

In 1981, Mr. Woodman moved to the southwestern art colony of Taos, New Mexico, where he maintained a home and studio with another artist. Here, under the crisp blue light of Taos and surrounded by the wide open spaces of the American West, Mr. Woodman's list of subjects grew to include paintings of the Monument Valley, the Tetons, Zion and Yosemite. He also painted local subjects, including adobe walls and gates with hollyhocks, the daily life of the Tewa Indians of Taos Pueblo and the Hopi Indians of Third Mesa, fiery night scenes of mystic rituals and the subdued beauty of the Pueblo night. In 1988, Mr. Woodman moved to the quiet solitude of the coastal mountains of California near Santa Cruz. His subjects now include poetic depictions of the blooming spring wildflowers along the coast Monterey and the foothills of Carmel Valley.